Superior Apartament
Up to three people, 49m²
Bedroom, living room with kitchenette + bathroom
From 480 zł
Availability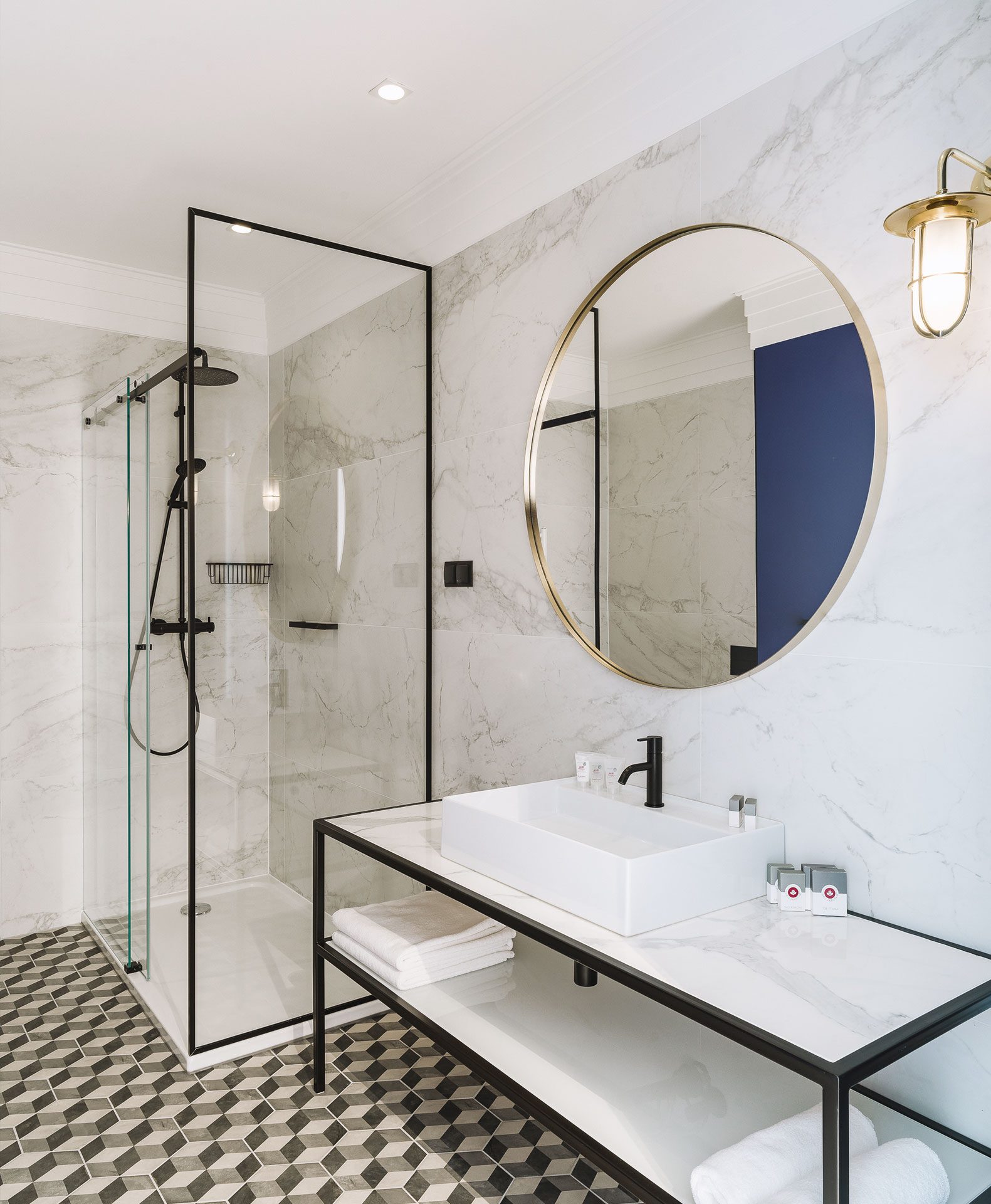 Sawa
Elegant, standard "Sawa" Apartment of an area of ​​47m², located in a beautifully restored, historic outbuilding. Here, the charm of the Warsaw's past meets contemporary style in a great location, with plenty of Art Nouveau and modernist buildings. Inside, there is a wall decoration inspired by the works of Henryk Stażewski – a painter, a legend of avant-garde art in Poland. The standard apartment faces the quiet, stylish side of the street.
The bright interiors comprise pieces of furniture by Polish designers and high-end marble finishes. The open-plan living area is equipped with an elegant couch, a coffee table and a TV set. The living space is merged with a dining area with a table and a working area with a desk and a comfortable chair. In addition, there is a functionally equipped kitchenette. A bed with a top-quality mattress plays a major role in the sleeping area. The apartment has a spacious bathroom with a toilet, a sink and a shower. A large built-in wardrobe in the hall ensures a comfortable stay.
Facilities
• No.4 Rooftop – access to the terrace on the roof of the tenement house in the summer and spring season,
• Juice & Coffee Bar in the lobby (Mondays-Fridays 8:30 a.m.- 6:00 p.m., Saturdays-Sundays 10:30 a.m.- 5:00 p.m.),
• A kitchenette with an oven, a fridge, a dishwasher, a kettle, a coffee machine and china,
• Iron, ironing board, safe,
• Access to a washing machine and a dryer,
• Air conditioning,
• The reception desk is open from 10:00 a.m. to 4:00 p.m.
• Pets up to 20 kg are accepted (additional fee),
• Free Wi-Fi all over the hotel.